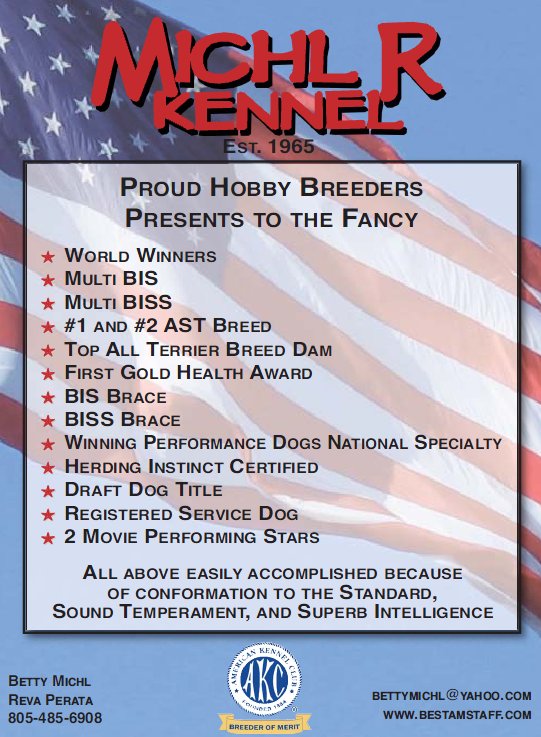 ABOUT OUR KENNEL
I have owned, loved, bred and trained AMERICAN STAFFORDSHIRE TERRIERS since
1970. Operating under kennel name MICHL R we have placed many top winning
Amstaffs throughout Europe, South America , Australia and Japan .

I managed the stud career of WILLYNWOOD REDNECK to obtain top BEST IN SHOW
and BEST IN SPECIALITY SHOW PRODUCING STUD AMSTAFF I N THE BREED
WORLDWIDE. REDNECK HOLDS THE RECORD OF SIRING
FOUR NATIONAL SPECIALITY --WINNERS BITCH. ALSO SIRING A WORLD WINNER AND JUNIOR WORLD WINNERS.
Michl R Kennel produced the #1 and #2 Ranked Amstaff in 2006.

Aside from Confirmation rankings we are proud of our TOP PERFORMANCE DOGS
and our SERVICE DOG guiding a paraplegic.

Besides our Conformation and Performance dogs we are equally proud of our family
companion dogs. All our dogs are health tested and temperament proven.
California American Staffordshire Terrier Puppy Breeders | California American Staffordshire Terrier Breeders | California American Staffordshire Terrier | Link Resources
Betty Michl
805-485-6908
Phone Calls Preferred